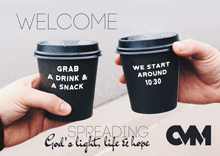 CVM Sundays
Come join Community Vineyard Manchester (CVM) for our weekly celebration of what God has done in the past week whilst we look in expectation towards the week ahead. Held at the Phoenix Centre, St Mary's Park, St Mary's Road, Prestwich, Manchester, M25 1GG doors open at 10:15am for café and registration for Kidzone (ages 1-11) with Kidzone, YouthZone (ages 11-16) and Adultzone kicking off at 10:30am (unless Ross gets talking with someone…). Things wrap up around 11:45am with the café re-opening, kids deregistering and everyone hanging out before heading out to spread God's light, life and hope to Prestwich, Greater Manchester and the World beyond! There is free parking on St. Mary's Road as well as the St. Mary's Park parking lot itself and as always for further information drop an email to office@cvmchurch.co.uk or text 07989 550 830. We look forward to you joining us!

Note on the Sundays below we will be holding some special events and thus will not be gathering at the Phoenix Centre. All are welcome to these events and as their dates draw near more details of these will be published on our website's events area:
16 December, 2018: Morning off. We will not have a morning celebration due to Crafts & Carols the day before. Enjoy your lie in.
30 December, 2018: Christmas Break